The Destroyer Pedal
The url="www.destroyerpedals.com" Destroyer Pedal

∞
is a third party bass drum pedal made for the
game_RockBand Rock Band
∞
Drum set, created by
user_MrBrownStain420 MrBrownStain420
∞
. It uses a real, chain driven bass drum pedal with a reed switch.
Features
The Destroyer is adjustable to fit any playing style. Each part is drilled and fastened, nothing is glued or taped. The pedal is constructed of solid steel. There's no chance that it will break due to stomping too hard.
Reception
The Destroyer has recieved many positive reviews from
ScoreHero
users. It was also reviewed by Eric Blatburg on url="http://www.psu.com/The-Destroyer-Rock-Band-Pedal-Review--a0003374-p0.php" Playstation Universe.
Critisism
The most commonly reported problem with the Destroyer is that it slides and can move the drumset itself if you are playing on a hard surface. This can be easily fixed with any bathmat, or indoor/outdoor rubber floor mat.
Compatibility
The Destroyer is compatible with the Rock Band and Rock Band 2 standard drumsets on all systems. It is also compatible with the
Ion Rocker
⇒
, but it requires an adapter. It is expected to be compatible with the
game_GuitarHeroWorldTour World Tour
∞
drum set as well.
Troubleshooting
The pedal works when the magnet gets close to the sensor. Changing the distance of the magnet through adjusting the screw or raising the height of the stopper can change when it triggers (or fixes it if it isn't triggering at all).
---
To raise the height of the stopper, unscrew the screw inset inside the stopper and pull the stopper off. Then insert washers or anything that you can get that will fit under the stopper as to raise the stopper's height. Then screw the stopper back in. This may be a trial and error process.
---
Loosen the screw and move the part where it attaches to the pedal left or right. Moving to the left will decrease sensativity of the trigger. Moving it to the right will decrease sensativity and make the trigger trip earlier.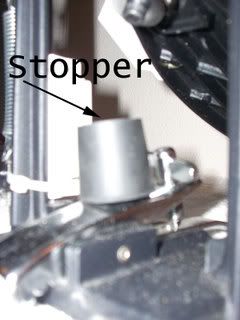 ---
If you're having trouble with the pedal sliding, buy a cheap rubber bathmat from Walmart or the Dollar Store (or anywhere else that sells such things cheap). It should run about 5$.

---
Category:
CategoryHardware