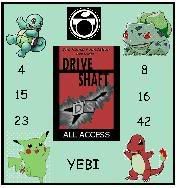 Drive Shaft
is currently the top ranked PS3 band and is 2nd overall on Scorehero for Rock Band 1. The band members are:
killertomatoes88
∞
, singer
meister
∞
, guitarist/bassist
mnwildguy24
∞
, guitarist/bassist/drummer
Constable
∞
, drummer
History
Drive Shaft was started by meister in March 2008. Within the first month, DS took the PS3 leaderboards over from
Motor De Muerte
. It was quite easy with all top players. Due to technical problems with Constable and mnwildguy's PS3s, the band wasn't able to play for about a month. Drive Shaft had been going for 58/58 1st places score at the time, but the month of not being able to play stopped that from happening, at one point they had 56 1sts. It was the band
Average White Guy
that was able to stop them and eventually claim 1st on PS3 from them by playing every day while Drive Shaft only could once or twice weekly. Once technical problems were taken care of, the two bands had a back-and-forth leap-frogging rivalry that lasted until late June when DS became the first band to reach 100 million points and claimed 1st overall from 360 band
Unethical Horse Rapists
.
All 4 members finished Rock Band 1 in the top 10 for their instrument.
Drive Shaft hopes to do well with Rock Band 2.
Invalid team name specified
External Links
Rock Band 1 scores
∞
Scorehero thread
∞
---
Category:
CategoryScoreheroBands