About Me:
I'm a 25 year old recent college graduate with a bachelors in Animation and Graphic design. On my spare time i not only play Rock band, but i love making Jewelry and playing the Pokemon TCG as well!
I grew up near Cleveland Ohio my whole life, then went out to Arizona for art school, i went to Collins College in Tempe Arizona from 2005 to 2008, then when i graduated, i moved back to the Cleveland area!
Arizona is beautiful, by the way! Everyone should visit at least once! I have a lot of friends out in Arizona, but not so many out here in Ohio, which leaves me with plenty of time for my hobbies... and work.
If you want to know more about me, you can friend me at
Myspace
∞
,
Facebook
∞
,
Twitter
∞
, and my new
Crafting blog
∞
Favorites:
Favorite Genre: Punk
Favorite Band:
Alkaline Trio
∞
Favorite Pokemon: Weavile & Drifloon
Favorite colors: Red, Brown & Blue
Favorite Rock Band Songs:
Note: There are a TON that i'd like to list, and i'll continue to add to this list. These are songs that i enjoy to vox, and songs i like in general.
The Flood, Downfall of us all, Skullcrusher Mountain, Re: Your Brains, The Rock Show, Sin Wagon, Get up (I feel like being a) Sex Machine Pt 1, The Kill, Break my Heart, This Calling, Two Weeks, Master Exploder,

Favorite Rock Band Bands to sing:
Roy Orbison, Guns & Roses, Jonathan Coulton, Evanescence, Coheed & Cambria, The Fratellis, Foo Fighters, Disturbed, Dead Kennedys, Gorillaz, Oasis, Rise Against, Dropkick Murphys, Tenacious D,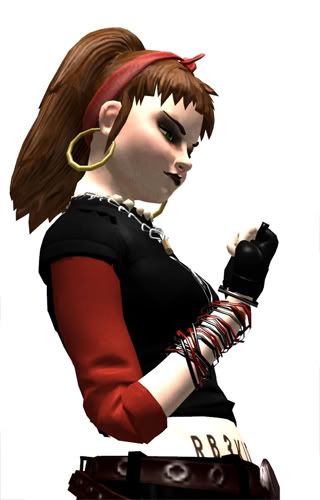 Rock Band:
Vox:
I picked up the mic pretty much for the first time in the begining of the year 2009, maybe very late 2008. I started on medium, and almost immediatly went to expert! I Immediatly got Platinum! (January/February 09) I casually sang for fun with my family and random online people.. Then i decided to go for a FGFC around May, and achieved it in April. I didn't use any of the "official" vocal paths until early April. I'm not too good at figuring out the paths on my own, but i did come up with one of the Maroon 5 paths on my own, and it's optimal! yay! pfft.
Ps. My mom and Sister pick up the mic from time to time! My mom loves to sing the Country songs and a few other misc, and my sister beat my score on hysteria! lol.
Guitar/Bass:
I've been playing Guitar ever since Guitar Hero 1 came out.. I started on Easy and SLOWLY worked my way up to Hard, where i stayed there for quite some time. A really good friend of mine would either come over my house, or i'd go over his to play at least once a week together, and he encouraged me to make the switch to expert... havn't looked back since! He picked up the drums when Rock band came out, and with him on drums and myself on guitar, we went through the endless set together on RB1 & Got platinum, and we probably would have done the same for RB2, but i graduated and moved shortly after RB2 came out :(
After i Moved i left my plastic guitars behind in Arizona, and was not able to play for awhile... All i had was a USB Mic and a controller.. I wanted to play, so i picked up vox! I did manage to get Platinum Gtr/Bass on my own after i moved, but i don't play very often.. compaired to the other gtr/basses i play with, i.. well... stink. xP I can get through most songs, even tough ones! That dosn't mean i hold a streak well, though xP
∞
Band:
Rock Band 2 Era:
Early January 2009 I ran into a random bassist online who i played with pretty often, he's a lot of fun, and we'd randomly jam together whenever. He lost his band data around March, and when he re-made the band, he asked if i'd be the official singer for his new band.
I couldn't turn him down! i loved playing with him, and actually having a band to be in would be fun, right?
He also asked two of his other friends that i may have only played with once before to be the drummer and guitarist. Formed to be a casual band where we can get together and just have fun, the
Rock Band 3 Kids
(Previously known as the Rock band 2 Kids) were now formed!
We're still a casual band, we get together once or twice a week now to jam and have fun sightreading the songs we havn't played. we share DLC and have 100% of the DLC together.
After lots of hard work, we crept up the charts to stop at #5th PS3 band, #9th overall. Until a few of our friends formed a group called Dead 2 Rights. They got all DLC, and banged out every song within a few weeks, and bumped us down to 6th. lol. I would say they're our Rival band, but we love 'em :D
I'm also just picking up my band, Julie & The Foos!
Bands that i've played with:
Rock Band 3 Kids
Julie & The Foos
Maelstrom
The Bath of Khan (Now Kobra Kai Dojo)
CAMP FREDDY RB STYLE PT 2
(And other Camp Freddy Bands)
NEWFOUNDBELBIN (#s)
And so much more
Rock Band 3 Era
When Rock band 3 came out, all my old bandmates and all my old friends started dropping out. They didn't like the new engine, they didn't like calibration and stuff.. one excuse after another and one friend after another left rock band.
I, on the other hand, LOVE the new engine for Vocals and love the new features! However, now i have no one to play with. I started playing on my own and getting scores on my own, but that quickly got boring after playing RB2 with all my friends was so exciting.. I slowly stopped playing as well, but REALLY want to play again! I'm looking for a band to play with, so please, hit me up if you're interested! I need some friends <3
Vox Stats as of 9-14-09
| | | |
| --- | --- | --- |
| Rock Band 2 | 17,261,206 | 14th |
| All Songs | 114,459,924 | 17th |
| | |
| --- | --- |
| Stars | # Songs |
| Three or fewer | 0 |
| Four stars | 21 |
| Five stars | 29 |
| Gold stars | 505 |
Juliefoo's Keldon Stats
∞
/
Rock Band Stats
∞
Juliefoo's Scorehero page
∞
Juliefoo's Rockband.com profile
∞
∞
∞
∞
OMBFC achievement Banners:

... yeah, only one so far.. I suck on drums... bad. But this OMBFC Was expert on all instruments, and all Gold star FCs! yay :D
Single song achievement Banners:










Pack/Artist achievement Banners:












Other achievement Banners:
∞





∞
∞
∞