Mystakin
---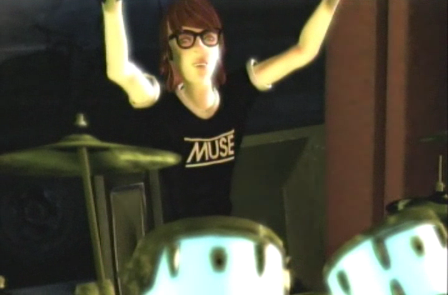 ---
Name: Mystakin
Real Name: Erich
Location: State College, PA
Born: Nov. 18, 1988 (19)
Instruments: Drums, Guitar
First GH/RB game: Guitar Hero I
Joined Scorehero: 19, Feb 2008
I'm a top tier drummer for Rock Band and, maybe soon, Guitar Hero World Tour. I started playing GH games a long time ago, but never reached the talent as the rest of the community(and also never tried). I try my best to do as many split-camera videos(videos that combine the note chart and me playing the game) and have an ever growing list of subscribers.
Pre-Scorehero Guitar Hero Information
---
I've been playing Guitar Hero games since GH1. In fact, I've bought every GH game within a month of it's release date, with the exception of the original Rock Band. I played a lot, and got pretty good (I think) but never knew about Scorehero or even figured that any people took the time to Full Combo/100% anything. I didn't get into Scorehero until Rock Band, and specifically Rock Band drums.
Favorite GH1 song:
Texas Flood - Stevie Ray Vaughan
Favorite GH2 song:
Gemini - Brian Kahanek
Favorite GH3 song:
Through the Fire and the Flames - Dragonforce (Yes, I actually like it)
Favorite GH3 DLC:
Dragonforce Pack/Muse Pack (Dforce pack for the fun, Muse pack for the Muse...)
First Full Combo:
Killer Queen - Queen
Rock Band Information
---
I started my drum "career" with Rock Band. I have no previous drum experience, but started playing on Hard mode because I thought my previous Guitar Hero experience would help me along. I slowly built my skills to expert, and so on from there. I eventually mouse-pad modded my drums(mostly for the sound), and it improved my scores a little bit. Around this time I got very interested in Scorehero, and eventually decided to join it.
After seeing enough videos of Azuritereaction about the sock mod and getting overly frustrated with my drumset, I sock modded my red pad. It was about the time that I FC'd many of the snare rolls in Highway Star that I went "HOLY SHIT! THIS THING IS LEGIT!" Since then, my drum sets have all been sock modded(luckily my only RMA was another QM). I never really got into RB1's on disc songs as much as the DLC.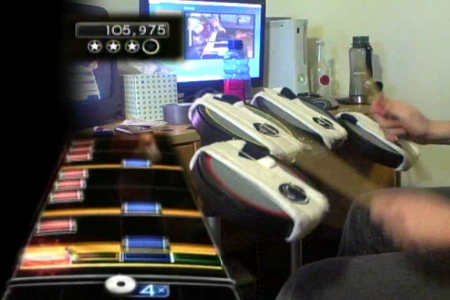 ---
Example of split-cam video.
Screenshot taken from here.
∞
On Disc FCs:
42/58
First Drum 1st place:
March of the Pigs - Nine Inch Nails (no longer :( )
Favorite Song:
Epic - Faith No More
Favorite Guitar song:
Train Kept a Rollin' - Aerosmith
Favorite Drum song:
Won't Get Fooled Again - The Who
Rock Band 2 Information
---
I absolutely love Rock Band 2. After RB2 came out, I didn't play any other complete games until GH:WT came out. With the exception of drum squeezing being left in RB2, my only complaints of it are very minor.
On Disc FCs:
74/84
Favorite Song:
Aqualung - Jethro Tull
Favorite Guitar song:
Let There Be Rock - AC/DC
Favorite Drum song:
Panic Attack - Dream Theater
Rock Band DLC Information
---
I can't afford all DLC in RB, but I afford as much as I can. Below is a list of random facts about me and my DLC.
1st to FC Volcano - Jimmy Buffett
1st to FC Two Weeks - All That Remains
1st to FC Face Down in the Dirt - Mötley Crüe
1st to FC My Curse - Killswitch Engage
2nd to FC Who Are You - The Who
I have Drum FC'd the Boston Pack
I have Drum FC'd all but Same Ol' Situation (S.O.S.) on Dr. Feelgood
I have -1 on (Take These) Chains
I have -1 on Amazing Journey
My favorite FCs are Siva and Who Are You
DLC FCs:
88/??
Favorite Album:
Dr. Feelgood - Mötley Crüe
Favorite Pack:
The Who Pack
Favorite DLC single:
Love Spreads - The Stone Roses
Favorite Free DLC song:
I Wanna Be Your Man - Endeverafter
Guitar Hero World Tour Information
---
I now own a GH:WT game and set, but I don't play it nearly as much as Rock Band. I never really take the time to FC hard stuff in it.
Contact Information
---
AIM: RockDJ1988
Stream(ustream):
http://www.ustream.tv/channel/mystakin-plays-mostly-rock-band
∞
Stream(socialgamer):
http://socialgamer.net/sp/mystakin
∞
Youtube:
http://www.youtube.com/user/Mystakin
∞
Rock Band Accomplishment thread:
http://rockband.scorehero.com/forum/viewtopic.php?t=11901
∞
Guitar Hero Accomplishment thread:
http://www.scorehero.com/forum/viewtopic.php?t=81891
∞