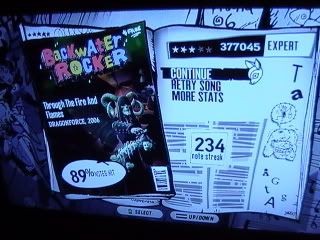 Backround Info
An Average Player who has Raining Blood left to 5* on the Main Setlist for Guitar Hero 3. His High Score on Through The Fire and Flames is 377k. His Top Score is on Operation Ground and Pound with 478k. He owns Guitar Hero 2 and started on it but does not go back to it as much because of the timing window is different to him and he could easily 5* it but doesnt have the motivation. He lives in New York and is almost 17 and is a JR in highschool.
Accomplishments
More than 25 Guitar Hero 3 Fc's
All but
RaBl
⇒
5*'d on GH3 Main Setlist
Started Guitar Hero Club in my High School
Favorite Guitar Hero songs
GH1: Killer Queen/Bark at the Moon/More than a Feeling
GH2: The Trooper/Sweet Child O Mine/Dead!
GH:80s: I Wanna Rock/Play with Me/Holy Diver
GH3: One/Cliffs of Dover/Striken
GH:A: All the Young Dudes/She Sells Sancuary/Walk this Way
GH:OT: We're Not Gonna Take It/I Am Not Your Gameboy/Heaven
GHOT:D: Sweet Home Alabama/The Middle/No Rain
GH:WT: Freak on a Leash/Beat It/Crazy Train
Rock Band 1: Run to the Hills/Tom Sawyer/Enter Sandman
Rock Band 2: Down with the Sickness/Anyway You Want It/Chop Suey
Guitar Hero DLC: Soothsayer/The Devil Went Down to Georgia/Operation Ground and Pound
Rock Band DLC: Afterlife/Working Man/Joker & the Theif
Web Hosting