Smeddy24
Biographic information
I'm smeddy, or "Kevin" to some people. I've lived 18 years more or less uneventfully, save for a strange medical incident in which a pill got stuck in my throat in fifth grade. I live in Illinois, and always have. I am in my first year at DePaul University.
SH/GH/RB
After a couple of party/Best Buy experiences with Guitar Hero I decided I began looking into buying a PS2. Being a high school kid with no job, I first researched alternatives and found Frets on Fire, so I played that through most of 2006 and all of 2007. I got GH3 for PC in Christmas of 2007, and beat most of hard in the first couple days. It took until february before I could pass
RaBl
⇒
, and mostly because I don't care, I still haven't beaten Lou. On Expert I'm stuck on Before I Forget, again, mostly because I don't care.
I joined
ScoreHero
on the last day of 2007, and had lurked for maybe a couple days before then. I was looking for ways to mod GH3PC. I eventually ventured out of the Software forum and into the realm of Miscellaneous Guitar Hero Discussion, or Misc. GH Disc., as I've called it frequently. At some point I also ventured into the Gaming Discussion Forum where I participated in the
Game Design Challenge.
∞
I'm proud of my two designs,
Der Erlkönig
∞
, which took first place in its week, and
Fighting for Freedom
∞
, which tied for third.
The next thing I'm proud of is my Strat controller, "The Shitwrecker". The forum thread is available
here.
∞
The most true to life picture is likely this one: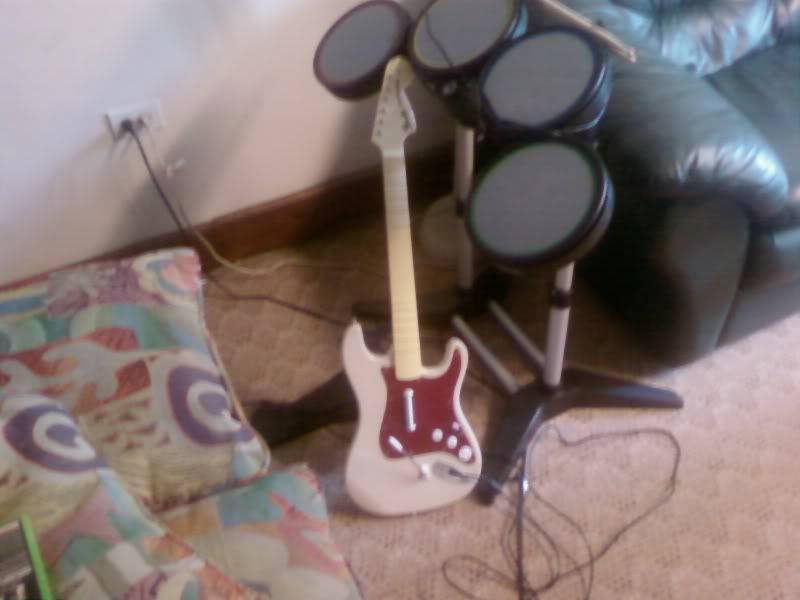 I won my Rock Band kit in a radio call-in contest that also sent me to Los Angeles to see
VH1 Rock Honors: The Who.
∞
I also bought a GH3 bundle from Walmart because it was super cheap, and my Xplorer was broken at the time. So, for a short period of time, before I sold the copy of GH3, I owned both Rock Band and Guitar Hero 3 for the xBox 360, a system I don't own.
Outside of Rhythm Games
I played tuba throughout junior high and high school, because they're so bulky and expensive, I don't have a horn to play anymore. However! I still have my two didgeridoos and a theremin, both of which are much more portable and a lot more interesting to talk about, if more difficult to play musically.